A Matt King Announcement
I've picked up some new followers recently (hello new followers!). I just wanted to let you folks know that I don't write on this blog anymore. I have post daily at: thebridgechicago.tumblr.com I answer questions daily and post content from the podcast I host, Say That. I hope you check it out, God bless, Matt
3 tags
Depression resurfacing?
Anonymous asked you: Recently I lost my Grandpa and things have been rough. I've also struggled with depression in the past, but I'm worried it's coming back. I'm seeing the typical signs (lack of interest and motivation, trouble sleeping, moodiness, numbness) and I'm wondering if this is just a way of grieving or something I should take more seriously. There are...
"Good marriages take a lot of work. Great marriages take basically everything..."
– Glen Fitzjerrell (Unka Glen) from episode 2 of the Say That podcast get it free with one click here (via thebridgechicago)
"Christians or society maybe are saying sex is dirty, and forbidden. God is not..."
– Glen Fitzjerrell (Unka Glen) on episode 1 of the Say That! podcast get it free on iTunes, please leave a review. (via thebridgechicago)
Watch
thebridgechicago: The first entry in the "Grace" contest, from our dear friend Lee Younger and the high school and college folks at Christ Community Church in Oak Ridge, TN. Contest details here
4 tags
Speaking Out at School
Anonymous asked: Surrounded by sin at school, to speak or not to speak? In every class there's just people talking about sex and cussing and all this other stuff. I don't know if I should speak up or keep quiet like I have been. There"s never really an opening to talk about Jesus. I really realized how all of this going on today, and it was a pretty bad day. I pretty much kept to...
4 tags
How to Deal with Cultural Judgey-pants
Anonymous asked: Tell me why, oh, why do a lot of Christians think Christianity is about being far away from society as possible? Examples: "Oh, you went to the movies today? That's two hours of Bible study you wasted." "Jesus could come back any minute, and here you are, going to a pool party." And my personal favorite, "Please, oh, PLEASE give up secular...
5 tags
Anger and Offering
cousined asked: Hey brother. Love your ministry. Hopefully I can come out to bridge this summer or something as a volunteer! Always praying for y'all. Anyways, I was wondering about in Matthew 5 how it says if your ticked at your brother, you leave your offering at the altar, and reconcile with him before sacrificing? Well, since he knew we'd stop offering animals, what exactly did he...
5 tags
Is Reading Theological Books Beneficial?
Anonymous asked: What are your thoughts on theology? Do you think reading books by John Piper, Paul Washer, etc are beneficial? I answered: I think it is very beneficial to know precisely what you believe and have put some thought into that. It is equally important, however, prioritize those beliefs. I have opinions on predestination and transfiguration, but I'm not going to particularly go...
"grace is a force that I can't conquer your grace endures even though I wander..."
– "Grace" -Tasha Lawson, written by Jed Brewer listen here (via thebridgechicago)
3 tags
The cross does more than keep you out of Hell
"Jesus died on the cross for you". That is a statement is the cornerstone of our faith. As such, it is essential that we understand all of what it means. So listen up : Jesus death did more than just keep you out of Hell. It certainly did that, but when we fall into thinking that the death of Jesus was only about our eternal destiny, we are missing out. The thinking leads down...
4 tags
Bickering Christians
Anonymous asked: Some of my brothers & sisters in Christ can really get on my nerves. I have some Christian friends who can (and will) argue about everything under the sun, and if you don't agree with them, prepare to get buuuurned. I love their passion for Christ, but the way they preach the gospel is a bit…disturbing. They make me want to rip my head off. But, I can learn from...
2 tags
6 tags
Sinning is Bad...We Get It
Anonymous asked: Hiya, Matt:] I was wonderin', what's your opinion on Nate Pfeil's popular YouTube video "The Fire"? Some people think it's like, all judgmental and stuff; and other people are saying it is convicting. Whaddya you think? c: I said: Well I'm going to be honest, I didn't make it all the way through the video. Regardless of content, I...
5 tags
Sins Committed after being a Christian (continued)
(Follow up to this post about marriage after divorce)  Anonymous asked: In regards to that person's question in "What about sins committed after becoming a Christian?", you said you didn't see any scriptural ban on re-marriage. I, too, was always taught re-marriage is only an option to the innocent party, not the guilty, and that the guilty party must repent and live a...
4 tags
What about sins committed after becoming a...
What's your opinion on remarriage after divorce? I know a guy who recently divorced and wants to re-marry in the future. I know if his wife was unfaithful, he'd have the right to, but he cheated, and he was a Christian back then as well. God forgives sins, even adultery, but does that mean he can still re-marry?  Anonymous I Said: From a very practical standpoint, if someone...
5 tags
Chasing Shame
God has separated your sin from you as far as the east from the west (Ps 103:12). If you go north long enough, you will eventually go south, but you can go east forever without going west. Maybe that's why the command of peace is to "be still and know that I am God" (Ps 46:10). God has taken your sin so far from you, that in order to get close enough to feel guilt or shame, you...
4 tags
"So I will drive these roads, 'til this motor won't run And I will..."
– Andrew Peterson No More Fatih
3 tags
2 tags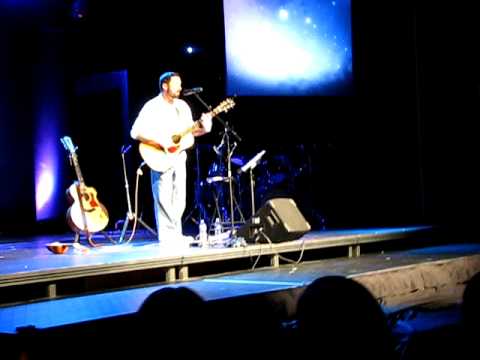 4 tags
"There for me the Savior stands, Shows His wounds and spreads His hands. God is..."
– Charles Wesley Depth of Mercy
4 tags
"Your insecurities are arguments with God. He is telling you that you are loved..."
– Matt King (mattkinger.tumblr.com)
3 tags
"Jesus was born in a filthy stable in a podunk town, in a time before advanced..."
– Matt King (mattkinger.tumblr.com)
3 tags
"He came down to earth from Heaven, Who is God and Lord of all, And His shelter..."
– "Once in Royal David's City"
4 tags
Christmas Thought: You Are On The List
The New Testament starts with a list of names, why is that? Is it a list of heroes to inspire, the standard set for those who want to be a part of God's family? No. The list is like the gospel in this, it is not about merit. David, the great king, makes the list, but so does Jehoiachin, under whom the people were exiled to Babylon. Solomon is there, builder of the grand and magnificent...
6 tags
Q&A: are Harry Potter and Twilight bad?
How do u feel about harry potter, twilight and stuff that's like, darkish. Do u think it's a sin to read books like that, even if they r not bad? Anonymous I said: There is nothing wrong with reading Harry Potter or Twilight. I read all 7 Harry Potter books in about 3 weeks, I've been to midnight showings of both Deathly Hallows movies, and (Tumblr is a safe space right?) many...
6 tags
"Fear gets a foothold when you focus on you and the things that might happen to..."
– Matt King (mattkinger.tumblr.com)
3 tags
"It's so easy to cash in these chips on my shoulders So easy to loose this..."
– Andrew Peterson "Fool With A Fancy Guitar"
5 tags
Christmas Thoughts: The Promise and the Child
The Bible is full of promises, to individuals, families, nations, and generations; and they reflect an overarching promise of the scriptures. It first appears in Genesis 3 when, before expelling Adam and Eve fromt the Garden, God promises that their offspring will crush the serpent's head. The same promise reappears in Revelation 21. Verses 3 and 4 say: And I heard a loud voice from the...
4 tags
Unto us a child is born.
Are you confused or lost? He is the Wonderful Counselor. Do you need protection and help? He is the Mighty God Have you been abandoned and hurt? He is the Everlasting Father Are you anxious or depressed? He is the Prince of Peace.
4 tags
"Mild, he lay his glory by, Born that man no more may die. Born to raise the..."
– Hark, the Herald Angels Sing
4 tags
Q and A: What do you mean I have to hate my...
Explain Luke 14:26. Why do I need to hate my family to be with Christ? I thought we were supposed to love our family and respect parents. I don't wanna hate my family! Anonymous   My Answer: When I was in High School, whenever my YoungLife leader would read a passage like this during bible study, he would look up and say "Well, that's in there." Luke 14:26 is definitely one of those...
5 tags
The Christmas Story is your story
You see, the best thing about this Story is- it's true.  -Jesus StoryBook Bible A very close second is that the Bible, and specifically the Christmas story, is about you. The prophecy quoted in Matthew 1:23 says "They will call him Immanuel (which means 'God is with us')". If you have trusted in Jesus, then you are part of that "us". And in another...
5 tags
"No, the Bible isn't a book of rules, or a book of heroes. The Bible is..."
– The Jesus Storybook Bible
"So rejoice ye children sing, and remember now His mercy. And sing out with joy,..."
– Andrew Peterson "Reprise"
fanbladesubmarine asked: Thanks for following back :) I really liked your tag-team answer about what godly guys are looking for, I never really heard it put that way before. I completely agree with everything you guys said!
Hmm&Hum: Q&A (TAG TEAM with Matt King) On What... →
leeyounger: mysoulisarefinery asked: As a girl striving to become a woman after God's own heart, I need to ask you: What does a godly man look for in a woman? I have always had high standards when it comes to guys and dating, until the other day I read something that simply said stop trying to…
6 tags
Watch
YoungLife in Anderson County TN, helping high schoolers come home. Made by Taylor Lane and Devon Accardi
5 tags
"God never says, " you should have come yesterday"; he never says, " you must..."
– John Donne
4 tags
5 tags
Why Ask God?
If God knows everything, including the desires of our hearts, why do we have to ask Him for stuff? Anonymous Great question. The simplest answer is that scripture, and therefore God, tells us to (Matthew 7:7, James 1:5, 1 John 3:22). So it is an act of obedience. That answer, while very true, is a little sunday schoolish, so let's dig a little deeper. There is a subtext to asking for something...
jedbrewer: THE FINAL SONG FROM THE NEW EP!! ...
5 tags
"When Jesus heard this, he was amazed..."
That is from Matthew 8. What did it take to amaze the one who was present from the beginning of all things? One man getting it. I think that we often feel that our stumbles grieve Jesus (which they do), but that our successes are just expected. That's not true. Your acts of faith, simple as remembering that Jesus has all things under his control, amaze the heart of Jesus.